Sa´Sen Yin for all
Retreats
In Germany, Überlingen
Retreat of 3 days in Überlingen from March 20 (2 p.m.) to March 22, 2020
"Learn to show yourself". Please bring white paper and colored pencils. In this retreat, we are together for dinner during the day, but sleep at home. If you need accommodation, you can contact Corinna Wagner.
On Ibiza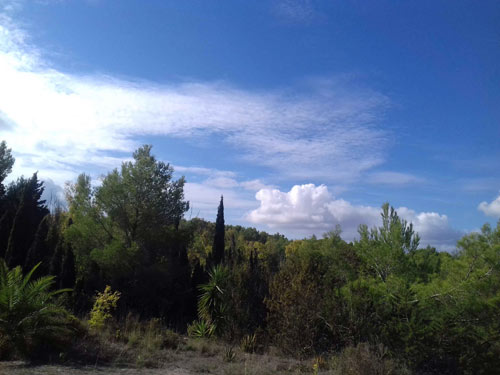 From June 6th to 13th, 2020: Learning to communicate with extraterrestrial and inner-worldly and with the elementary beings. In this retreat, we will deal with this topic in a way that goes beyond the mind and most of the ideas that mankind has from extraterrestrials. We will learn to see or feel all these beings, elementals, such as elves, fairies, devas, air and water spirits etc., as well as the extraterrestrial and inner-earthly, to communicate with them and to know how to ask them for help or to enable other forms of exchange. We also learn to recognize them directly and what they do. The island of Ibiza is ideal for this because there are plenty of these beings on and around the island. This time the "work" even takes place at Ria's home, a house with terraces to sit outside in the shade. We either cook together or we are cooked for: organic lunch and dinner. We practice physical exercises, we visit places on the island, meditate, feel, discuss and paint the inner perceptions and / or processes.
The painting technique does not matter, not even the experience or no-painting experience of the participants. The retreat takes place in a very quiet, powerful place that you could not otherwise get to. There is time for bathing in the sea and a flea market stroll etc.
5 days Retreat in English/Spanish language 26, 27, 28,29 and 30 October 2020
Discover yourself through the use of colors. 5 days withdrawal in Spanish, yet if you understand Spanish and speak english, it's for you too. In the morning from 11.00 we will do Chi Kung and others excercises to open and prepare ourselves for painting, which we will start in the afternoon after eating through meditations and indications. Each participant brings their own food and water. Herbal infusions are provided. We will finish every day at about 6:00 p.m. If all the participants have been in the same previous incarnation, we will look at this in one afternoon. It is a very deep and revealing work.
If you have a group and want a retreat in Ibiza in English, Spanish or Dutch, contact Ria directly.
Voices concerning the paint-retreat in May 2017 and 2018 on Ibiza
"The 5 most intensive seminar days I ever experienced, imbedded in a holiday atmosphere. I returned from Ibiza free, as if cleaned from the inside and fearless. And until today nothing has changed that. This experience is so deep and incomparable that I wish it to every human being." (C.W. 2017) Also from me, especially to you dearest Ria, many many thanks for this deep week so full of deep learning and experiencing and for the possibility to experience so much openness with all in sharing so deeply! (A.B.2018) Also from me thank you so much for this intensive, innerly moving week! (S.F.2018)For me it was an enormous joy and innerly strengthening to be allowed to experience this week dearest Ria. Your clarity helps me to clarify myself and your love is an inspiration to go forward always. Thank you from the depth of my heart. I'm so happy to be allowed to come again in autumn (C.WS.2018)
Note: The reservation of the retreats is binding. In case of cancellations less than 2 months in advance, the full amount is due.