The Team
Sa´Sen Yin Association
Since 2017 Ria has passed part of the training of the reintegration-massage on to Amina Bender and Corinna Wagner-Sorg. Both are fully trained Sa'Sen Yin coaches and councelors/consultants authorized to make statements and corrections.
Corinna Wagner-Sorg is also Ria's personal assistent. She coordinates her work at the lake of Constanz and the retreats in Ibiza and in the Eifel, and she takes care of Ria's homepage and public relations.
Coaches and counselors/consultants (therapist is a protected concept in many countries, therefore not used here) (private sessions, group work)
Sharon Loerzer
Avenida Punta Arabi 95, pta. 404, Santa Eulalia del Rio, Ibiza, Spain, Tel. 0034/639467279 This email address is being protected from spambots. You need JavaScript enabled to view it. This email address is being protected from spambots. You need JavaScript enabled to view it.www.familyevolutioncenter.com Sa'SenYin coach and consultant since 2003, etheric osteopathy, homeopathy, family consultance and work, children-development support, parenting courses, teacher counseling, business counseling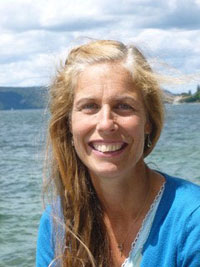 Amina Bender
Dipl.-art-therapist since 1996 and Sa´Sen Yin coach and counselor since 2007 parenting seminars, family counseling, reintegration-massage, etheric osteopathy, Akasha Chronik reading, chakra reading, constellations, seminars. www.sasenyin-aminabender.de This email address is being protected from spambots. You need JavaScript enabled to view it.
Dipl.-Ing. univ. Corinna Wagner-Sorg
Dorfstraße 24, 88662 Überlingen, Tel. 07551/9471022 or 0170/4311063 This email address is being protected from spambots. You need JavaScript enabled to view it. www.wagner-sorg.de. Free independent architect since 1992 and Sa´Sen Yin coach and counselor since 2012, reintegration-massage, etheric osteopathy, Akasha Chronik reading, chakra reading (no diploma yet), constellations, seminars.
Ines Boned Ruiz, Spanien und Ibiza, Tel. 0034/673979854
Traditional Chinese Medicine incl. acupuncture, Sa´Sen Yin consultant in reintegration-massage since 2015, etheric osteopathy (in training)
Gaby Brecht
Bahnhofstrasse 24, 86938 Schondorf am Ammersee Tel. 08192/93410, www.yoveda.de
Manager of the Yoveda-centre, stately graduated gymnastics- and sports teacher, medically graduated yoga teacher (Hatha-Yoga), energy Yoga according Boris Tatzky, Hormon-Yoga-Therapy (Dina Rodrigues), Sa´Sen Yin: Coaching to the topics Spirit- Body-Soul, Life Plan
Giulia Campinoti
Cala Azul (close to Sta. Eularia) Ibiza, Tel. 0034/646788572, This email address is being protected from spambots. You need JavaScript enabled to view it.
Professional dancer, Sa'Sen Yin coach since March 2017, together with Ria and under her guidance she developed IDOL, which is a way to release limiting, emotional patterns partly through dancing.
Dr. med. Marianne Sorg
Starenweg 4, 87480 Weitnau - Seltmans, Tel. 08375/929 8260This email address is being protected from spambots. You need JavaScript enabled to view it.www.praxis-sorg.com
Specialist in general medicine – natural medicine - Acupuncture | Germany, Sa´Sen Yin consultant since 2017, Sa´Sen Yin counseling, etheric osteopathy (in training)
Coaches and counselors/consultants in training
Dr. Christian Kern
Maximilianstraße 16, 86150 Augsburg, Tel. 0821/60080682 This email address is being protected from spambots. You need JavaScript enabled to view it. www.kern-gesund.pro
Psychotherapist since 1984, Supervisor, Coach und Learntherapist Sa´Sen Yin coach in training / Reintegration-massage (in training)
Dipl.-Ing (FH) Frank Waldvogel
Linzgaustraße 6, 88699 Altheim, Tel. 07554/986894 kontakt(at)frankwaldvogel.de. , www.gitarrenschule.frankwaldvogel.de www.claudiussperling.frankwaldvogel.de
Dipl.-Ing. (FH) technical social health service, gitarre teacher, musician, Sa Sen Yin coach in training / Reintegration-massage (in training)
Sophia Zora Fürst
Haldenweg 6, 88682 Salem, This email address is being protected from spambots. You need JavaScript enabled to view it.: Graduation in Theatre- and dance pedagogy (in training). She ist currently developing dance an theatre therapy with the help an accompainment of Ria: MOVE.IT Move Impulse Therapy; Sa Sen Yin coach in training / Reintegration-massage (in training)
Host at the lake of Constanz
Corinna is host for Ria's work at the lake of Constanz in Überlingen and since 2015 she make her house available for seminars, conferences and courses.